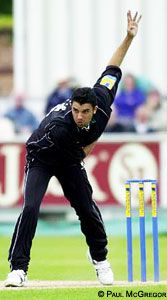 Kabir Ali did it again at Bloemfontein - pulling off a spectacular Tie from the jaws of defeat!
Bowling the final over (50th) of the South Africa innings, though it took 12 minutes to complete the over, Ali could not have believed his luck as he saw South Africa choking again - losing three wickets in six balls.
(Boucher, 49.1 ov), 7-269 (Prince, 49.4 ov), 8-270 (Hall, 49.6 ov)
Boucher's swat at a full-toss found the safe hands of Ashley Giles. Prince ran himself out in panic, and all big-mouth Andrew Hall could do was to get stumped!
Ali had done something very similar in May 2003 - playing for his home county
Worcestershire in a four-day game against Zimbabwe
. That game ended in an amazing Tie - claiming two wickets in three balls with the scores level.